The Final Stretch in Buying a Home
The closing is one of the last chapters for us in the 8-step process of buying a home. You may have heard of the strategy, ABC (Always Be Closing). The term was popularized in the 1992 film, "Glengarry Glen Ross" starring Alec Baldwin, Al Pacino, and Jack Lemmon. The movie was written by David Mamet and was based on his Pulitzer Prize-winning play. It emphasized the darker, cutthroat side of the sales industry.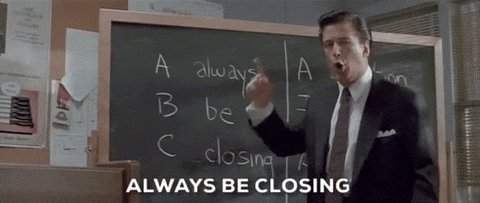 Much has changed in the modern age as pointed out in Investopedia. Here's the takeaway:
"Always Be Closing, as a concept, may be a relic of an earlier time; savvy, modern consumers are less likely to be as susceptible to sales pitches in an era when so much information is available online about products and pricing."
The Keller Williams agent is trained to place the interest of the savvy client first and foremost. Here is the Keller Williams outline of the last two steps for you to know:
Step 7: Closing
Once you've determined a price point, you're comfortable with, you're in the 'home' stretch! But, in order to ensure that you don't put the property purchase at risk, you have a couple responsibilities that you'll need to keep in mind:
Staying in control of your credit and finances – Do not make any large purchases during this time. It's important to keep your financials steady throughout the buying process. Talk to your financial consultant for guidance.
Keeping in touch with your agent and financial consultant – It's important to stay in constant communication with your Keller Williams agent and financial guide during this process. Be sure to return all phone calls and complete paperwork promptly. Also, don't be afraid to ask questions. The Dias Team is there to help you!
Step 8: Protect Your Investment
Congratulations, and welcome home! The home-buying process is complete, which means it's time for your maintenance plan! It's now your responsibility, and in your best financial interest, to protect your investment for years to come. Performing routine maintenance on your home's systems is always more affordable than having to fix big problems later. Be sure to watch for signs of leaks, damage and wear.
And remember, just because the sale is complete, your relationship with your Keller Williams agent doesn't need to end! After you buy, your agent can still help you – providing information on the real estate market, finding contractors and repair services, and even tracking your home's current value.
Happy home-owning!
If you are still holding back from buying a home of your own, consider the facts.
Fears vs. Facts